Practice Manager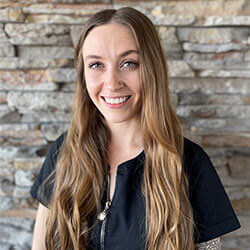 Alix
Like most people in this field, Alix realized her love for pets at a very young age. She has associate degrees in marketing and journalism and a bachelor's degree in apparel merchandising. Although she didn't initially pursue a career in the animal field, she joined us in March 2021 and hasn't looked back.
Alix shares her home with two cats, Ruby, a 9-year-old grumpy lady who will climb on top of you and make herself comfortable for a nap, and Leo, a 1-year-old kitten who likes to play and allows snuggles on her schedule. Alix hopes to purchase a home so she can add a rescue dog or two to her crew. She enjoys spending her free time with friends and family and exploring the Hills, as well as traveling and listening to live music.
Veterinary Technicians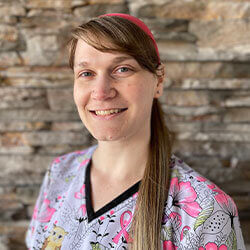 Kippy
Kippy attended National American University, and graduated with a Diploma in Veterinary Assisting in May 2008. Her intentions were to continue education into Veterinary Technology, but decided to join the Air Force. After a few years in the Air Force, she returned to Rapid City. In August 2013, she joined our staff here at All Creatures Veterinary Hospital. Kippy loves to spend time in the Black Hills with her husband, daughter, and 2 dogs, Mookie & Jade and Melvin the adopted clinic cat. .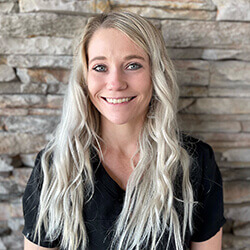 Mysti
Mysti graduated from National American University in 2018 with an associates in Veterinary Technology. She has always loved animals, especially her two dogs Thor and Silver. She has lived in Rapid City for most of her life and enjoys spending time with her son, daughter and adopted clinic cat Parker, going to the lake, golfing, snowboarding, and enjoying the outdoors.
Sarah
Sarah is a Registered Veterinary Technician, graduating from National American University in 2013. She has 5 amazing children with her husband of 8 years. They have been blessed with 3 girls and 2 boys ranging from preschool age to middle school age, which keeps them both very busy! Sarah and her family also have 3 blue heelers. Animals have always had a special place in her heart and she feels fortunate to be with the ACVH team! In her spare time, Sarah likes to spend her free hours hiking, kayaking, boating, reading, painting, going to church and watching her children grow and play basketball.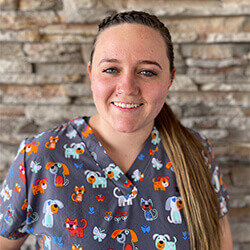 Venessa
Venessa grew up surrounded by animals, so she decided make a career out of her love for them. She has an associate degree of applied science and joined our team in September 2021. Venessa has four dogs: a 3-year-old blue heeler named Finn who loves to chase cows and has unbelievable energy; Kona, a 5-year-old border collie mix who thinks she runs the house; Remi, a 20-year-old pug mix who loves sock monkeys and will take one with her wherever she goes, and Roscoe, a 3-year-old Catahoula who is a giant couch potato that will cuddle all day long. Venessa also has three American quarter horses: Summer, a 15-year-old mare; Ed, a 9-year-old gelding; Bobo, a 4-year-old gelding, plus Predo, a 4-year-old Bureau of Land Management Mustang. Venessa enjoys spending her free time with her family, riding her horses and playing with her dogs.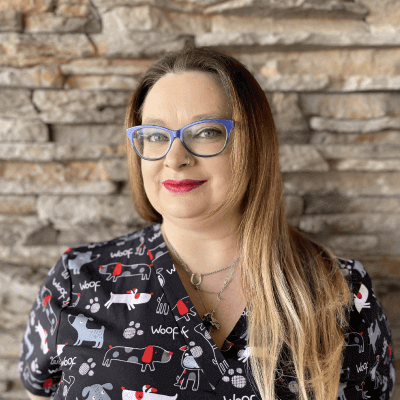 Melissa
An animal lover since childhood, Melissa has an AAS in Veterinary Technology and originally worked here at All Creatures in 2014. She returned to us in 2021 and we are thrilled to have her back because of her impeccable patient care and client communication skills.

In addition to her passion for animal care, Melissa has extensive knowledge in a multitude of fields and also has an AAS degree in Aerospace Maintenance. When she's not working, she enjoys reading, volunteering, collecting knives, and honing her firearm skills. Melissa also stays busy caring for her small menagerie at home, which includes six dogs, four cats, two horses, a couple of geese and a duck.
Veterinary Assistants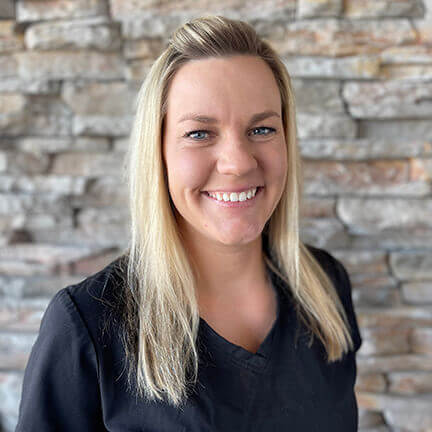 Madalyn
Madalyn has been a part of the All Creatures family since March 2022. She completed her Veterinary Allied Staff education in 2012 and has been working with animals ever since. Madalyn's skills are vast and she has had an array of experience. She jumped at the opportunity to join a team that was as passionate about animals as she was, and is a natural fit for ACVH.

A recent transplant to the area, she and her husband moved here in February of 2022. Fun fact! Madalyn's husband is a canine handler for the US Air Force! When she's not at work, you may find her enjoying the outdoors, hunting, hiking, or exploring local restaurants. Madalyn's home is a regular menagerie, with her house full of animals. They have Onur, an 11-year-old Belgian Malinois who is a retired military dog with 4 tours overseas under his belt. Odin, the 4-year-old chocolate lab, Coondog a 12-year-old Queensland mix, and Nessee, a 6-year-old blue dapple dachshund who loves to go paddle boarding. They also have Purrannah who is a 2 year old grey tortoiseshell cat and the newest addition is Voodoo – a 4-month-old kitten.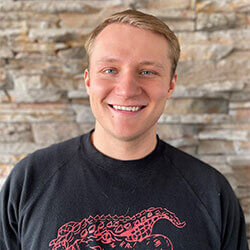 Brian
Brian realized his love for animals when he was 8 years old watching Steve Irwin. Because of his longtime love of animals, Brian was always destined for a career in pet care. A certified Veterinary Assistant, Brian has been learning and developing his skills in the field with ACVH. When he isn't working, you may find Brian hiking, enjoying new movies and eating at Texas Roadhouse.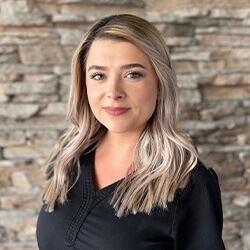 Hayley
Hayley has loved animals since she was a child, and she worked in the veterinary field in Florida for more than six years before joining us in July 2021. Her experience and dedication are huge assets to our team, and she helps keep us positive with her great attitude. She steps up to help with any and all tasks, and she is dedicated to providing excellent and efficient customer service.

Hayley has a deaf 3-year-old bulldog mix named Mia who is an angel. Hayley spends her free time snowboarding and hanging out with friends.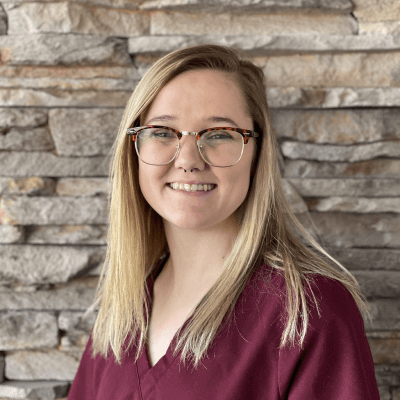 Caitlin
Caitlin is currently an assistant while she is taking classes online to become a Registered Veterinary Technician. She started at ACVH late November 2022, she brings loads of energy to the team and is always ready to jump in and help. Caitlin has loved animals since she was a child. She has 2 pets; Banner, a 4year old cat that likes to give kisses and play with soccer balls, and her newest addition Jarvis, a puppy that likes to wrestle the cat and lick kitchen cabinets. In her spare time Caitlin can be found singing, playing board games with her husband and friends, bowling, creating latch hook crafts, watching Astros Baseball and chatting with her family back home in Georgia.
Receptionists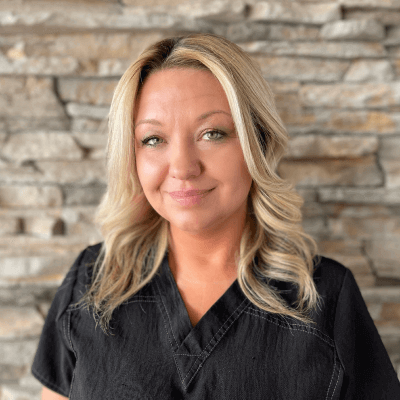 Cassie
Cassie is a mother of three and a receptionist for Dr. Falcon at All Creatures Veterinary Hospital. She loves animals and has always wanted to work with them one way or another. Cassie has lived in Rapid City the majority of her life and she is also an artist who has sold a few paintings in town but lately she just focuses on her kids and job, which she loves.