Our Veterinarian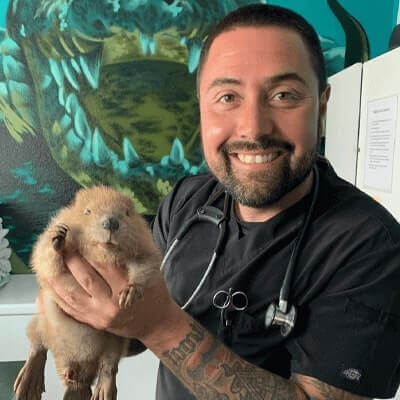 Meet Our Veterinarian, Dr. Dean Falcon!
"My dream was to open a veterinary clinic and about a seven years ago, I was fortunate enough to get to do that. I feel very blessed and lucky to have found such a great career and I love to call Rapid City my permanent home!"
READ MORE ABOUT DR. DEAN FALCON

Our Services

Testimonials
I've worked with Dr. Falcon and Dr. Hillary and both are fantastic vets. Over the years and several moves we've taken our cat to 5 different veterinary clinics and I have never been treated as well as at all creatures. They truly listen to your concerns and show compassion to your animals. Dr. Falcon even offered to come out and do an exam on our cat while the cat stayed in the car after we explained how stressed he gets going to the vet. He is the only vet that has ever managed to keep our cat calm. We just got a new kitten as a companion for our older cat and I wouldn't bring her anywhere else! They are the best!
- Chelsea S.
I travel for work. Therefore I take my dogs to vets across the country. We have seen all of the vets at this facility and they all have been kind and great with my dog. They are always easy to get an appt at and don't charge you unnecessary fees. The building is clean and up to date. And the services are the best priced I've ever experienced. I'd move back to Rapid so my dogs could come here.
- Rose A.
Love this place and the entire staff. Dr Falcon is so kind and intelligent. The staff was also amazing. Definitely recommend this place! We brought one of our dogs here for a torn ACL. The surgery went great, and her recovery has been phenomenal. She is already walking and her leg looks perfect! Highly recommend.
- Chelsea W.
Very helpful, caring, and kind staff and vet gave us good information with the best options that work for us and our dog. They were not pushy or pressuring us either. The facilities are very nice, attractive, and clean. Would definitely recommend and we will return here the next time there is a need.
- Oliver S.
Took my dog for the first time today. The staff are very friendly and helpful. The facility is beautiful and clean. The dr was very nice, took time to talk with me, just great. In spite of this glowing review, the best part is the very reasonable pricing. I am a senior on social security, and really appreciate that. Love this place, and won't go anywhere else.
- Deb J.