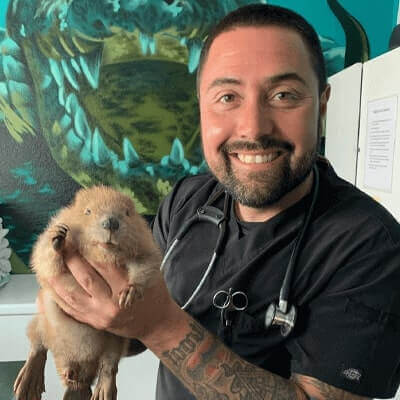 Hi everyone! Here's a little information about myself. I was born in Aurora, Colorado and moved to Rapid City when I was in middle school. I have always had a great interest and love for all animals and, growing up, my family can vouch for me that we had every kind of pet animal you can think of. When I moved to the Black Hills, I got very involved in the outdoors and I enjoy all outdoor activities such as fishing, camping, scuba diving, hiking etc. I graduated from Stevens High School in 1999 and then decided to move to Chadron, Nebraska and attend Chadron State College.
I received my Bachelor of Science with an option in pre-veterinary medicine in 2003, and then was very fortunate to get accepted to Iowa State University College of Veterinary Medicine in Ames, Iowa. After attending vet school and graduating in 2007, I knew that I missed the Black Hills badly, and I decided to come back home.
I have been a veterinarian in town for the past 10 years and my special interests include: small animal medicine and surgery, orthopedics, exotic animal medicine, emergency medicine, and shelter medicine.
My dream was to open a veterinary clinic and about a seven years ago, I was fortunate enough to get to do that. I feel very blessed and lucky to have found such a great career and I love to call Rapid City my permanent home! Most of my free time is spent with my family and all my pets enjoying the beautiful Black Hills.